Are you ready for some scrumptious cooking? I am always game for that. I have a yummy recipe to share with you today. See I told you just cause I am a
Blogger NOT on a Diet
, doesn't mean I don't still love to eat and cook. The yummy recipes will not be lacking here, just because I am trying to eat healthier. Food is way to good to deprive yourself! So read on for some absolute yumminess. Oh and a disclaimer :)
This recipe deserves a disclaimer
Although Hubby will disagree, as well as those red heads of mine, this recipe was fantastic! I found it on
pinterest
. You can follow me there to see everything else
I pin
. I spent LITERALLY all day looking forward to this meal. I made home-made garlic rolls and keep thinking about how much my family would love this home cooked meal. I taste tested this soup, before giving it to my family. I had thoughts of them saying Olive Garden had nothing on me. For reals people!! These are the things that went through my mind yesterday. This is how much I
knew
my family would love this soup.
Well....
BOY.WAS.I.WRONG
After serving this soup to my cute family, all I was greeted with were stink faces.
Seriously! Full on stink faces! You know the ones...half squinted eyes, nose scrunched up in that pooh face. Yep my kids were giving it all to me full throttle.
No one liked the tortellini.
WHAT!??! Who doesn't like tortellini? Well my red heads don't, this was news to me.
Hubby wanted to know why there was no meat. I tried to explain it was ok to go without meat for one meal. He looked at me like I was speaking some foreign language. He totally did not agree. Then he gave me that lovely stink face as well.

Like Father like son I guess.
So as I enjoyed my soup, and every last bite I might add, my children informed me how much they ROYALLY hated this soup. Well I thought the rolls would save me. I mean who doesn't like homemade rolls?
No Such luck.
Those stinkers!
Too garlicky they say.
What! They're are garlic rolls. What did they expect!
Why do I share this? Not because I was made at those freckled faces or those green eyes my hubby has. Love those stinkers no matter what. I share this because first of all, I want you to know that yes I do love to cook, and yes my family is always my tester, but no they don't always love it as much as I do. Yes I have visions of my children older, coming to me for cooking advice,because they know their Mom is a royal rock star in the kitchen. Yes I think of my son telling his future wife she needs to learn to cook like Mom. Yep all these things go on in this brain of mine. Of course though that is not always the case in the real world.
Sometimes I am told "good try" and "yea for trying new things".
So now I have creamy tortellini soup, which I will eat everyday this week for lunch, with garlic rolls I might add. I will enjoy it, while my family has PB and J
So for those of you with familes, who do love creamy tortellini, please try this recipe. I promise you will love it. If you and your family like garlic rolls, try them as well. The seriously do rock! But if your family is like mine, meaning they are not into tortellini and such, you might want to lay off. Unless you want stink faces all through dinner. That is my disclaimer:)
Now onto the seriously AWESOME recipe.
Creamy Tortellini Soup
This recipe is originally from HERE.
Ingredients
1 1/2-2 ounce envelope of white sauce mix
or make it from scratch here.
4 cups of water
1 14 ounce can vegetable broth
1 can sliced mushrooms
1/2 chopped onion
1 tbl spoon garlic
(I buy mine pre-cut in the jar)
1/4 tsp dried oregano, crushed
1/2 tsp dried basil , crushed
1/4 tsp salt
1/8 cayenne pepper
1 7-8 ounce package of cheese tortellini
(about 2 cups)
1 12 ounce can of evaporated milk
6 cups of fresh spinach leaves
Ground black pepper (optional)
shredded parmesan cheese
(I used grated)
Directions
1. Place dry white sauce mix in a 3-1/2- or 4-quart slow cooker. Gradually add the water to the white sauce mix, stirring until smooth. Stir in broth, mushrooms, onion, garlic, basil, salt, oregano, and cayenne pepper.
2. Cover and cook on low-heat setting for 5 to 6 hours
or on high-heat setting for 2-1/2 to 3 hours.
3. Stir in dried tortellini. Cover and cook on low-heat setting for 1 hour more or high-heat setting for 45 minutes more.
4. Stir in evaporated milk and fresh spinach. If desired, sprinkle individual servings with black pepper and Parmesan cheese.
Makes 4 servings.
Print Recipe
HERE
Now onto the rolls recipe.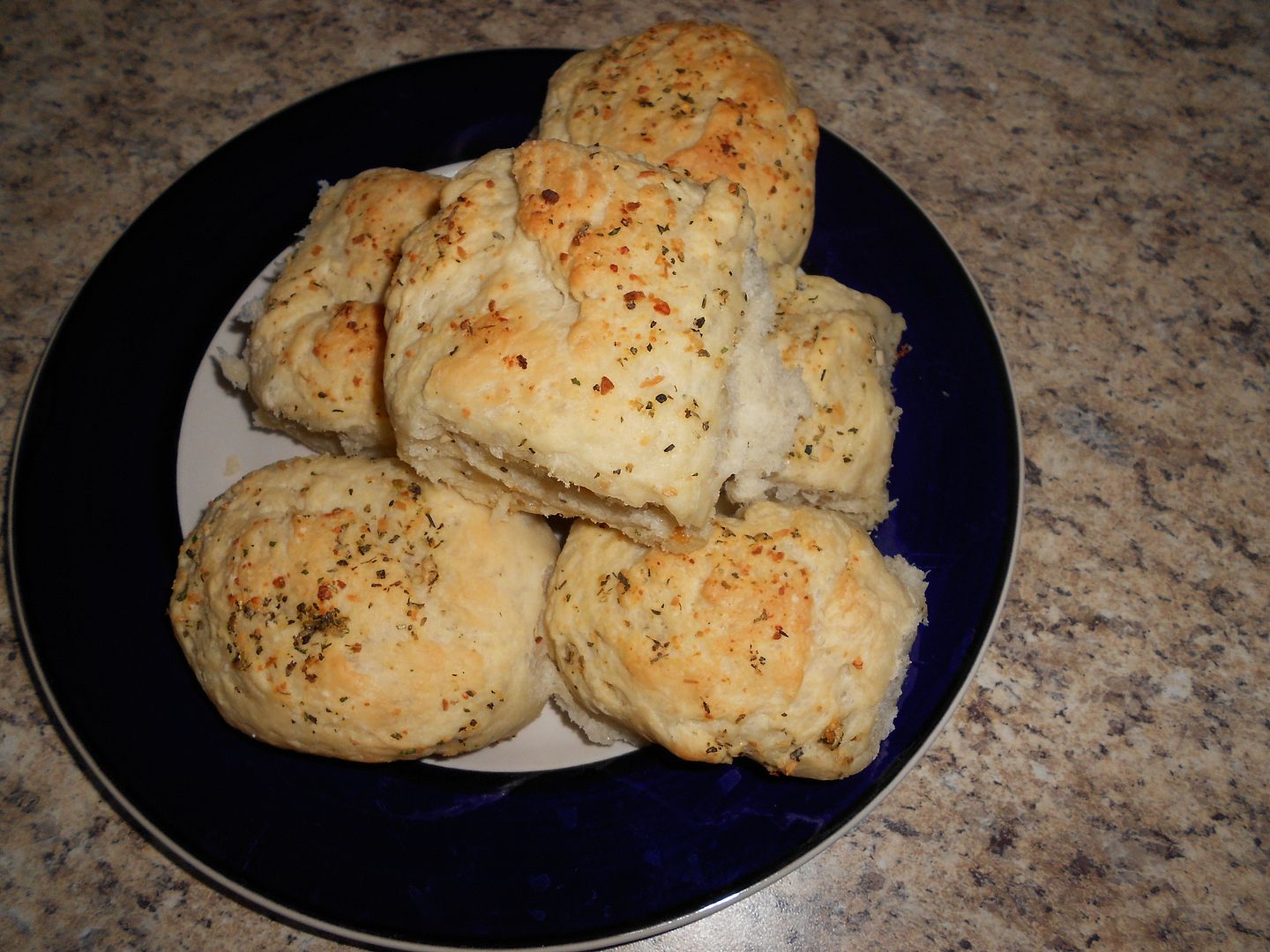 Garlic Rolls
I adapted this recipe from
HERE
. I used the dough recipe and put it in my bread machine on dough cycle.
3 cups bread flour
1 tbsp. sugar
2 tsp. instant yeast
1¼ tsp. salt
2 tbsp. olive oil
¼ cup milk
1 cup plus 2 tbsp. water
Add 2-3 tbl of flax seed (optional)
Place all ingredients in your bread machine according to the machines directions.
Mine is always liquids first with the flour and yeast being last.
Put your machine on dough cycle.
Once that cycle is done, take golf ball size pieces of dough and roll in balls. Place on greased baking sheet.
Add some butter, mixed with garlic salt, to the top of each roll. Be generous. It will melt into the roll during the rise time and baking. Makes it oh so good!
Let rise for 15 minutes, in a warmed oven or warm place in your kitchen.
Bake @ 350 for 20-25 minutes.
Print Recipe HERE
Enjoy!
--------------------------------------------------
So there you have it. A recipe I absolutely L.O.V.E. But my family hates.
Good thing I am the one who menu plans right...hehehe

Have a great day!

Need help meal planning? Check out my free
Weekly Menu Plans.
and my
Let's Eat Section
I also have great posts to help your family save money!
Cut Your Grocery Bill in Half
Freezing Your Milk
Living on $14,000 a year
How Does She Q and A
Breakfast and Lunch: Meal Planning and Saving Tips
Fresh Produce All Month Long
Save Money at Costco
Menu Planning: Pantry Staples List
Weekly Menu Plans + Printable Shopping Lists
Follow me on
Facebook
Follow me on
Twitter
Browse my
Pinterest
Follow me with
BlogLovin
Send Me an
E-mail
Link up at
My Party