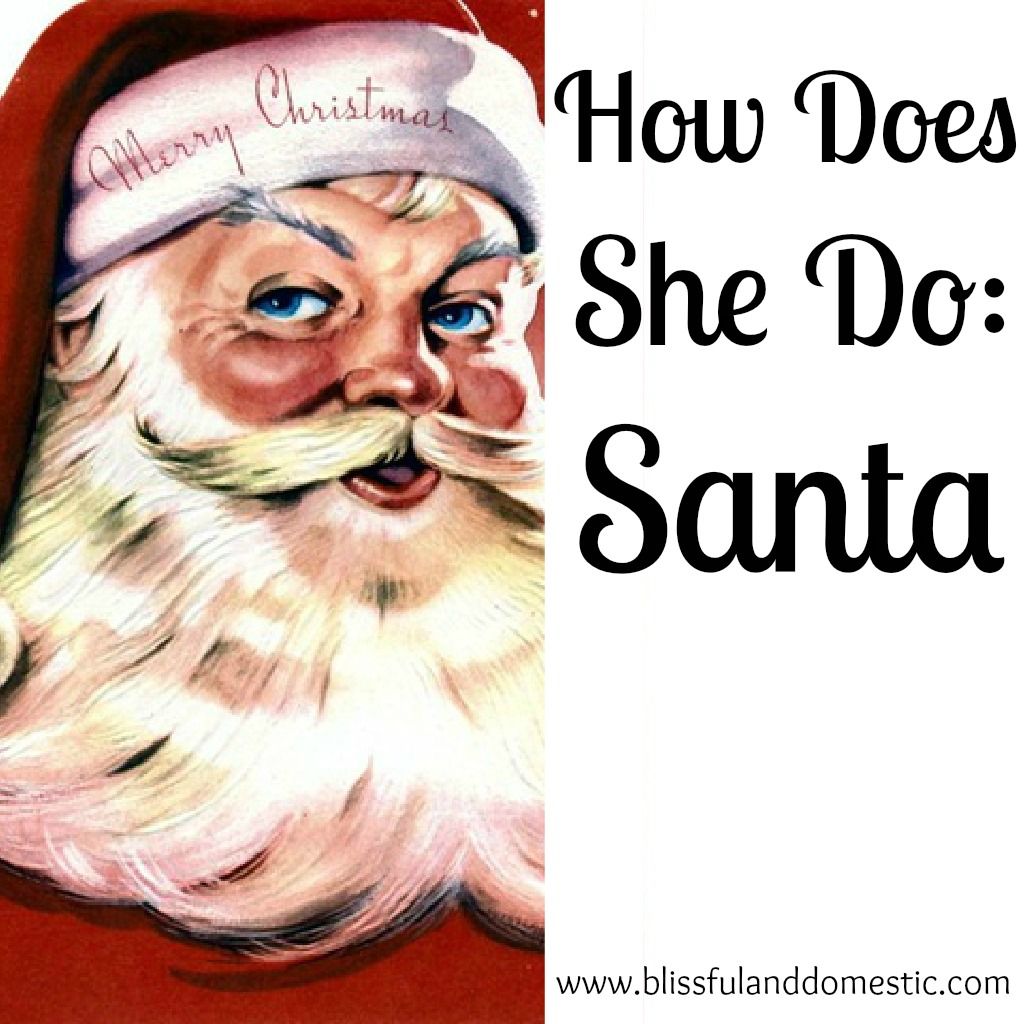 Today I wanted to share what we do to make the Christmas season special and how we share the gospel principles behind it. For those of you who are of a differing faith or belief, I ask that you be kind. I try to keep things light and fluffy here on Blissful and Domestic, but today I want to share something close to my heart. I am a member of the Church of Jesus Christ of Latter-

Day

Saints. I know my Savior lives and loves me. This post is for those Moms who were once like me, wanting to find a way to make their Christmas holiday more Christ filled, but not knowing how to go about doing it. This post is for my 20 year old self.
Read on lovelies......
Santa Claus....That big, jolly man with his white beard and rosy cheeks. He is everywhere this time of year. We see him in commercials, in store advertisements, in Christmas TV specials, and even on food packaging. Santa Claus and Christmas go hand in hand every holiday season. As adults we can remember being a child and waiting to hear Santa and his reindeer on our roof tops. I can remember sneaking into my parents room and snuggling up to my Mom. I had to be around 5 or 6. I swear I heard hoof steps on the roof. I nudged my mom to tell her, but she grumbled for me to go to sleep and rolled over. I listened for more steps. My six year old self was just beaming with excitement. I knew I had heard Santa. He had come and brought presents for my brother

and I

. Santa is a part of all of us. He is a part of our youth. Eventually we get older and either learn for ourselves or from our friends that the jolly St. Nick is not real. I was dropped the "Santa Bomb" by my friend Stevie. Yes Stevie you crushed my Santa dreams with one phone call...haha :) Eventually I got over my No-Santa shock and moved on with my life. I still always loved Christmas, even though no more hoof steps would be heard on my roof. This is true today as well. Christmas holds a magic for me. It is like a big ball of glittery fun, which just has to be shared. I LOVE Christmas. The wrapping of presents, the jingle bell carols, the treats, and of course all the family gatherings. It just puts my heart in overdrive, happy mode.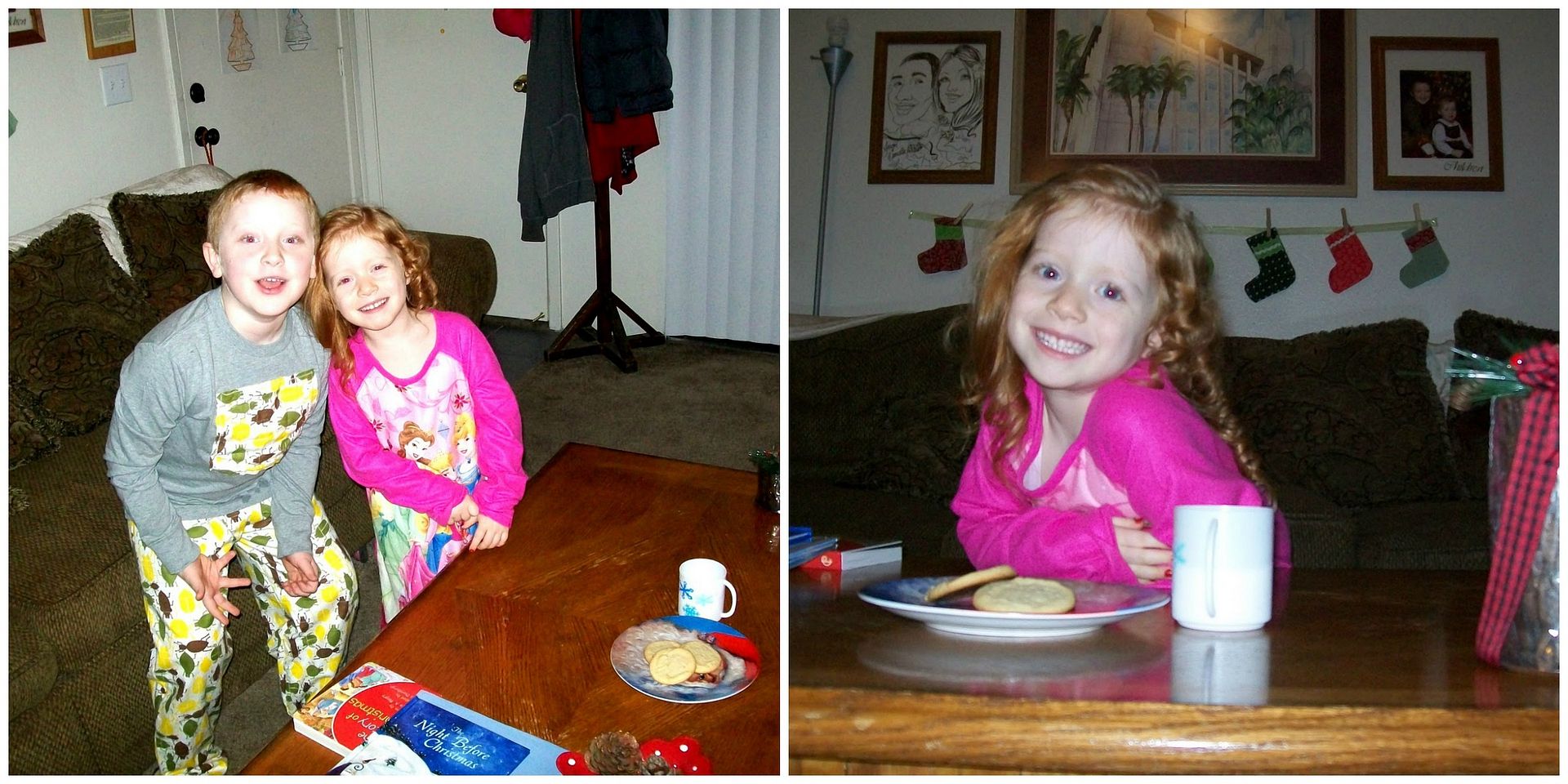 When I had children I knew I wanted to pass this love for the holiday on to them, but how would I do it? I wanted them to know the real reason we celebrate Christmas. Christ is the reason for the season.
After having my son, I talked to mother after mother. I wanted to know what they did to make the Christmas holiday special for their little ones. How did they teach them the true meaning? One sweet mother told me that they didn't do Santa. I was astounded. What? You can NOT do Santa? I didn't even know that was allowed. How does that even work? Well she enlightened me. Her children were hardcore Santa fans, until they decided one day to pray to him. Their little selves understood that they had been told that Santa could see them when they were sleeping and when they were awake, so he must be like God....Right? Well this Mother knew she had to do something fast. She sat those children down and dropped the "Santa Bomb". You know the "He isn't real" bomb.The thinking of her little ones made sense. We teach our children the gospel everyday, and the holidays should be no different.
After hearing her story I decided what I would do. I would not discourage Santa, but I wouldn't encourage it either. Hubby was on board with my plan. We would do fun holiday things, string Christmas lights, give presents, but we would teach the gospel principles behind everything we did.
Anytime I discipline my children, I do it through the gospel. When they have made a wrong choice, I remind them that those are things that make their Heavenly Father sad. By learning how little things can be unpleasing to the Lord, they are able to understand how bigger

,

poor choices can be just as bad. They begin from toddlerhood to realize that everything has an eternal, spiritual consequence. We continue this teaching at Christmas time.
Every year we do a countdown. When my kids were toddlers we used the Alphabet to help us countdown to Christmas. For 26 days we crafted, created, baked, sang, and skipped our way to Christmas. This was such a fun way to get my then 3 and 18 month old into the spirit of the season. We started off slow with the gospel principles we taught. We mainly focused on a cliff notes version of the Christmas story. We wanted to make sure they knew who Christmas was for.
As it gets closer to Christmas we start The Twelve Prayers of Christmas
. We get out our book and the nativity. We read a poem each night and add one piece to the nativity. On Christmas Eve is when we read the whole Christmas story again and add Christ. I love this book because it breaks down the nativity so simply for us. We are able to talk about why we give presents. We do this when we add the wise men. We give presents to remember how the wise men brought Christmas gifts after he was born. We bake star cookies when we talk about the new star that shone in the sky. We make every moment count. I am going to write up a post with a breakdown of the 12 prayers of Christmas, just in case anyone is looking to start a new tradition with their family this year.
We still have fun with Santa. We make Santa crafts, Santa treats, and watch The Santa Clause Movies
. We do this because it is a fun, magical part of Christmas. I get to have fun with my kids and be one myself for the whole month of

December

. I look forward to it. By not "doing Santa", you're really just taking the focus off the man in the red suit and putting it back on the Savior. Because after all, you can't have Christmas without out Christ.
Thank you all for always being such amazing supportive readers. I would love to hear what you do to make the season brighter for you

r family. How do you focus on Christ during this season?
Follow me on
Facebook
Follow me on
Twitter
Browse my
Pinterest